"A mutual fund is a collective investment scheme, which specializes in investing a pool of money collected from investors for the purpose of investing in securities such as stocks, bonds, money market instruments and similar assets."
One of the main advantages of mutual funds is that they give small investors access to professionally managed, diversified portfolios of equities, debt instruments i.e. TFCs and Govt. Securities and other securities, which otherwise would be quite difficult (if not impossible) to create with a small amount of capital. The income earned through these investments and the capital appreciations realized are shared with its unit holders in proportion to the number of units owned by them.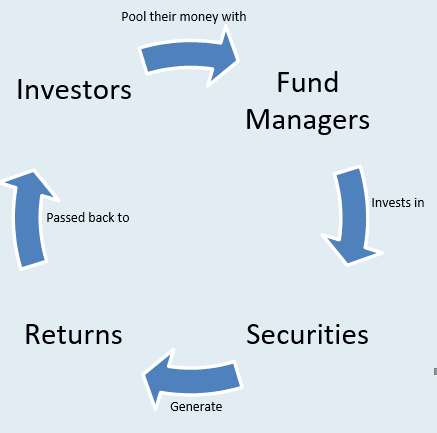 Types of Mutual Funds
There are two types of Mutual Funds:
Open-Ended Mutual Funds
Closed-Ended Mutual Funds
Open-ended
These are mutual funds which continually create new units or redeem issued units on demand. They are also called Unit Trusts. The Unit holders buy the Units of the fund or may redeem them on a continuous basis at the prevailing Net Asset Value (NAV). These units can be purchased and redeemed through Management Company which announces offer and redemption prices daily.
Close-ended
These funds have a fixed number of shares like a public company which are floated through an IPO. Once issued, they can be bought and sold at the market rates in secondary market (Stock Exchange). The market rate is announced daily by the stock exchange.
Structure of Mutual funds
Mutual Funds are operated by Asset Management Companies (AMCs) which exist in the form of public limited companies registered under Companies Ordinance, 1984. An AMC launches new funds through the establishment of a Trust Deed, entered between the Asset Management Company and the Trustee, with due approval from the SECP under the Non-Banking Finance Companies (Establishment and Regulation) Rules, 2003 (the "Rules"). The Trustee performs the functions of the custodian of the assets of the Fund. The Trustee ensures that the Fund Manager takes the investment decisions within the defined investment policy of the Mutual fund. Under Pakistan law, banks and central depository companies, approved by the SECP, can act as Trustee.
At present Central Depository Company of Pakistan (CDC) is acting as the Trustee for most of the funds of the industry.
The Securities & Exchange Commission of Pakistan (SECP) is the regulator of mutual funds industry and is very stringent in issuing licenses to fund management companies, especially in the case of Collective Investment Scheme (CIS). The SECP also carries out continuous monitoring of mutual funds through reports that the mutual funds have to file with the SECP on a regular basis. In addition, SECP conducts on-site inspections of the AMCs
Frequently Ask Questions